Registration​
Registration is a necessary step towards your own laboratory notebook. Please register on your first visit to the electronic laboratory notebook. Then use this access data for each subsequent login. The registration page or the login page will always be the first page accessed.
SciFinder Setup​
The SciFinder-n module (query information in SciFinder-n by using an API) can be installed following the documentation here: https://www.chemotion.net/chemotionsaurus/docs/eln/settings#scifindern. To enable the use of the API, your institute needs to have a regular SciFinder-n license. For each ELN instance, a registration at CAS is needed. This is managed by the Chemotion team at KIT to facilitate the process. For requesting a license for SciFinder-n API use in chemotion, please send a short request to the NFDI4Chem helpdesk https://www.nfdi4chem.de/index.php/helpdesk/. We will contact you and clarify the necessary details.
Once the SciFinder module has been installed, user can register the SciFinder crediential in the "Account & Profile".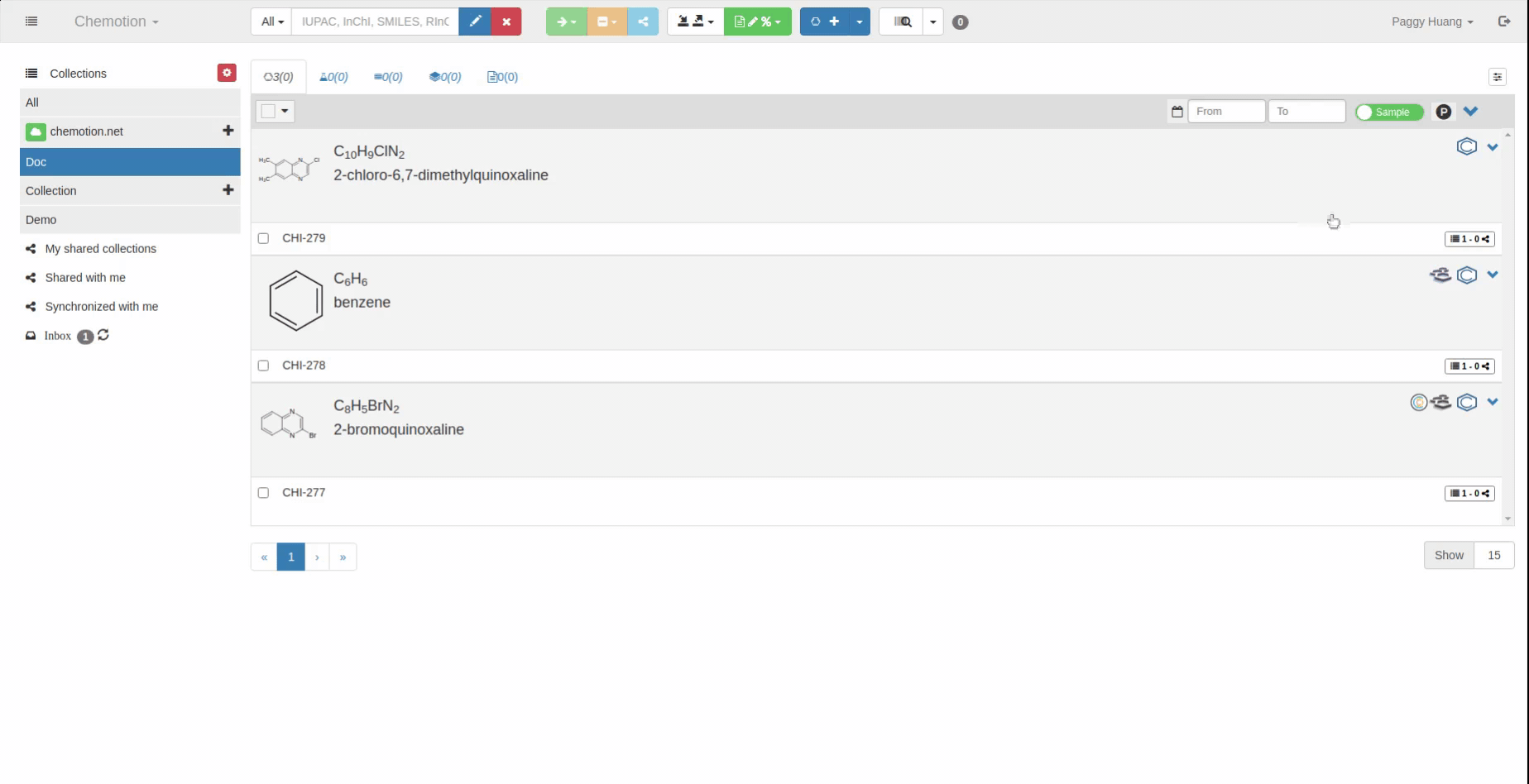 After pressing the button, a token will show on the page if the SciFinder crediential is vaild.

If the credential is not vaild, "none" will be shown in the column "current token".

The First Collection​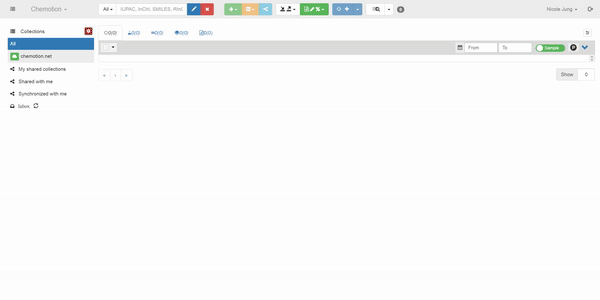 A collection is a collection of elements (Sample, Reaction, Wellplate, Screen, Research Plan and others) that is assigned to a project or subproject. Two collections are given per default: chemotion-repository.net and All. The chemotion-repository.net collection is a connector to the chemotion repository and should not be used in the first Chemotion ELN trials. The collection All is installed as backup, it contains all entries of the Chemotion ELN independent of other assignments. The creation of the first own collection is usually the first step in the Chemotion ELN and allows to store your own elements. For the creation of collections please use the collection management via the red button in the collection bar. Please create a new entry New Collection under My Collections by pressing . Please rename the collection and save it by pressing .
Caution
To use the Chemotion ELN functions, a first user-defined collection has to be created! Please think about a smart structure for your Chemotion ELN and create your first collection!
Chemotion ELN user settings​
User Settings: Account & Profile​
The account & profile settings allow the user to
define a reaction label and adjust the counter for reactions
change the visibility of labels/numbers for samples
choose a curation standard for the analytical section
add SciFinder credentials (only KIT/Karlsruhe internal)
adjust the counter for different elements in the Chemotion ELN
User Settings: Template management​
This function is not accessable to all users, please ask your instance admin if you don't see this function
User Settings: Change Password​
User Settings: My affiliations​
User Settings: My groups​
User Settings: Molecule Moderator​
This function is not accessable to all users, please ask your instance admin if you don't see this function
User Settings: My devices​
This function is not accessable to all users, please ask your instance admin if you don't see this function